Carboot
Circus, barely 2½ weeks old, is about to face a newer, bigger more avaricious competitor. At the end of this month the
Westfield

Centre
in west London opens and is set to put poor little
Carboot
Circus firmly in the shade. It's everything that
Carboot
Circus is, but much more so.
Westfield

Centre
has 1.6 million square feet of space, 260 stores, 50 restaurants, a 13 screen cinema, parking for 4,500 cars, several new tube, rail and bus stations (60% of visitors are expected to use public transport) and is costing £1.6 billion to build.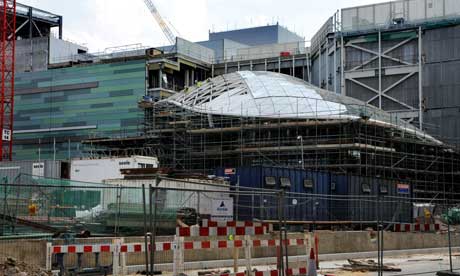 Westfield
is aiming for exactly the same market as
Carboot
Circus, with 'anchor' stores including House of Fraser, Marks &
Spencers
,
Debenhams
, Next and
Waitrose
, plus a range of prestigious high-end names like Louis
Vuitton
in its exclusive 'Village' area (definitely no peasants). It also has a wavy roof of glass panels, multi-levels and proper hanging gardens, but that much more impressive in scale. If you believe such
nonsence
, it will create 7,000 new jobs (or rather transfer them from other ares, including no doubt a few from
Carboot
Circus).
Carboot
Circus made much of their catchment area extending to areas like
Swindon
and the
Cotswolds
, but for such areas west London is only a little further and public transport connections are that much better. So many shoppers, particularly the high spenders for whom train fares are small beer, may look disdainfully at
Westfield's
poor imitation in Bristol.
Carboot
Circus' brief reign as having a unique style is already coming to an end.
Meanwhile
Carboot
Circus suffered another mishap on Sunday evening when a power cut halted the showing of films at the Showcase Cinema, forcing hundreds of customers to be ushered out. Another example of over hasty construction leading to faults?